On to CAMBRIDGE UK 2024
Visit the
Lean HE 2024 Cambridge UK
website or send an
email
inquiry - we'll see you there! This 2023 website will close in January 2024.

The University of California San Diego is honored to host the 2023 Lean in Higher Education International Conference, October 18-20, 2023. We are excited to bring our Lean HE global community back together in person for the first time in four years! We hope you will join us "On the Edge..." in our beautiful facility, The Robert Paine Scripps Forum, part of the UC San Diego Scripps Institution of Oceanography.
This annual conference supports the Lean HE community and provides unparalleled opportunities for attendees to share insights and solutions regarding continuous improvement to bring about increased effectiveness and efficiency and thereby support the transformative power of Higher Education.
In-Person Conference & In-Person Speakers

3 Days of Sessions, Learning and Interaction
Pre-conference options at no additional cost
Beneficial for Individual or Institutional Lean Journeys
Inclusive for All Experience Levels

Engage and Create Lasting Connections with Colleagues
Announcing Our Keynotes & Emcee
Newsletter
Sign up now and be the first to know about the latest conference news and announcements delivered right to your email.
LinkedIn
Follow the "Lean in Higher Education" LinkedIn group for news about the conference and other global Lean HE posts.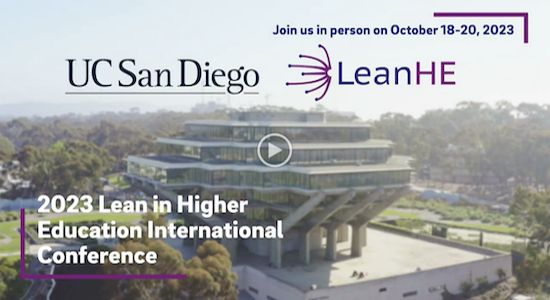 Video Invitation
You are invited by the Mayor of San Diego and UC San Diego leadership to join us in person "On the Edge..." for the 2023 Lean HE International Conference!
Registered Attendees...
See more about these special events in the conference app - now live!
Conference app was released to attendees on OCT 3rd. Email us if you missed it.
Early Arrival Pizza Social, Tuesday, Oct 17th
Welcome Social, Wednesday, Oct 18th
Beachside Banquet & SIO Pier Tours, Thursday, Oct 19th