Schedule
Alert
The conference app was released to attendees October 3rd. If you missed the message, 
email us
.
 Welcome to the All Things Schedule pages! 
Schedule Overview
The UC San Diego team is planning a conference experience that will reignite, refresh and reinvigorate your lean passion, knowledge and community! Here's an overview for three days of connection. Program and session details are available to conference attendees via the conference app - launch information was emailed to registered attendees OCT 3rd.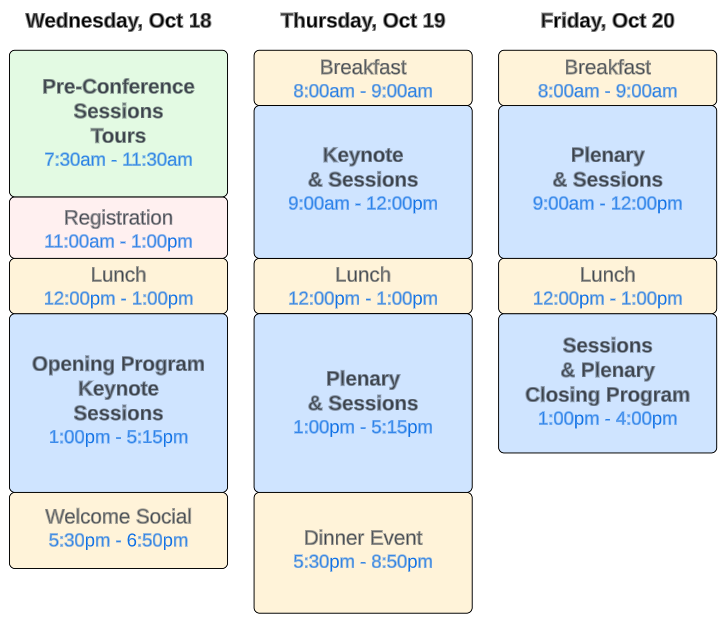 Note
The conference app was released to attendees October 3rd. If you missed the message,
email us
.
Conference App for Attendees
Information about our conference app was emailed to registered attendees OCT 3rd. The app provides:
Detailed descriptions of sessions, keynotes and plenary sessions
Program schedule and locations & session chat
List of speakers and biographies
Individual schedule planning
List of attendees and optional 1:1 chat
Several 'Community Chats' to share info with colleagues
Location details and more! 
Ask San Diego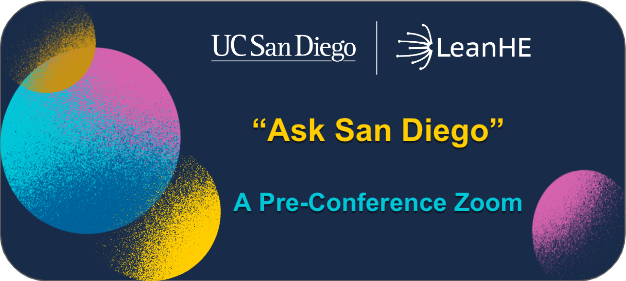 NEW: If you missed the previous sessions, join us for this one!
You're invited to a pre-conference networking zoom chat designed to meet new people, say hello to familiar faces and discsus any questions you may have about being "On the Edge..." in San Diego for the Lean HE 2023 Conference! Registration required.
Wednesday, October 4th at 8:00am, San Diego  [4:00pm, Cambridge, UK]
We'll have representatives from the San Diego LHE23 Organizing Committee, Lean HE Global Leadership and friendly people who live in San Diego!
Bring your questions about:
San Diego microclimate weather
Transportation options
Sights and activities
Conference activities
Conference app
Lean HE global organization
This is not a presentation - it's a chat!   
Session Proposals
---
The 'Call for Session Proposals' is closed. Thank you for all the insightful submissions! 
What to Submit
Submit your session proposal 'On the Edge…of Discovery…of Exploration…of Connection'
Share your insights and the methods that have helped you:
Discover, motivate and spark ideas

Explore challenges and resources to drive your program forward

Connect to improve community, reduce silos and resource ideas globally 
We especially seek proposals with clear learning objectives to:
Enrich participants with practical takeaways

Increase knowledge of current or emerging trends

Share examples of strategies that translate to help our institutions thrive

Create or build upon a Lean community in higher education?

Explain multipliers that provided results and how to adapt to achieve our own goals

Provide ways to demonstrate the value in attending LeanHE to leadership
Sessions are highly encouraged to be interactive learning sessions engaging participants with a facilitated exercise, experiential learning or unique format.
Target Audience
Who would be interested in your presentation? Lean journey levels of: 
Curious

Learning

Deepening
Session Themes
Sessions could pertain to one or more of the following themes:
What is Lean / Why Lean? 

How is Lean Different Than or Similar to Project Management or Change Management?

Tools & Techniques

FUNdamentals - Essential Trainings

People & Culture - Building a Lean/Continuous Improvement Culture

Building a Culture of Problem Solving - Promotes Adaptability & Sustainability

Building a Culture of Empowerment

Using Multipliers - Increase Value

Continuous Improvement as a Countermeasure to Burnout

Mindfulness in Lean / Process Improvement 
---
How to Submit
The Session Proposal Form is designed to gather information about you and the presentation. If selected, session descriptions and details can be revised.
Timeline
Session proposal acceptance is closed.

Notice of selection will be provided around the beginning of July.

Presenter acceptance replies are due within one week of notice.

Slides and session e-handouts are due by October 4th.
Guidelines
This submission tool will

NOT

 allow you save incomplete sessions and return at a later period to complete your submission.

Each unique session proposal requires a separate submission form.

Each session should only be submitted once.

Sessions with Co-Presenters to be submitted by the primary point of contact.

Co-Presenter profiles are requested after the session proposal has been submitted.

Presenters receive discounted registration rate equal to the early bird rate.
Confirmation Emails
During the session proposal process, you will receive email communications. We suggest you add the following to your allowable email addresses:
For more information about the conference, please visit our website LeanHE2023.ucsd.edu
Questions or comments? Please email LeanHE2023@ucsd.edu.