Transportation

Air Travel


Flying into San Diego? It's an amazing landing pattern "On the Edge..." of the Pacific Ocean! If you sit on the left side you'll have a view of the coastline, downtown, Coronado Bridge and the San Diego Bay. On the right side, you'll see our many diverse neighborhoods (North Park, Hillcrest, Bankers Hill, etc.) and part of the internationally reknown San Diego Zoo & Balboa Park.
Visit the San Diego International Airport (SAN) website for all types of helpful information including ground transportation options, flight updates, and more. While exploring the SAN website, note that Terminal 1 is closed for a complete renovation. You can find the many US and global airlines that fly to SAN on this page, use both tabs Terminal 1, Terminal 2 to see all airlines. Happy landings!
Driving


Check current highway conditions before heading out on the roads. CalTrans provides other travel information to help make your California road trip safe and enjoyable. 
Train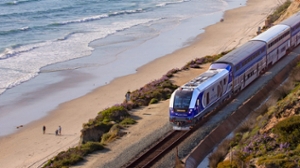 San Luis Obispo > Santa Barbara > Los Angeles > Anaheim > San Diego
Multiple Departures Daily. The Pacific Surfliner travels along a 351-mile route through San Diego, Orange, Los Angeles, Ventura, Santa Barbara, and San Luis Obispo counties with portions of the route hugging the Southern California coastline. Explore the Pacific Surfliner trip planner.
Trolley & MTS
UC San Diego worked hard for many years to help bring the San Diego Metropolitan Transit System(MTS) 'UC San Diego Blue Line Trolley' to our campus! Connected with other public transit options, this creates wider coverage for an environmentally-friendly transit to/from the main campus and portions of our UC San Diego Health. 
Transit Pass: PRONTO Card
Transit products for the San Diego Metropolitan Transit System (MTS) are delivered through the PRONTO regional fare system. Visit these links for information about the card and locations to buy/reload the PRONTO card.
UCSD Campus Shuttle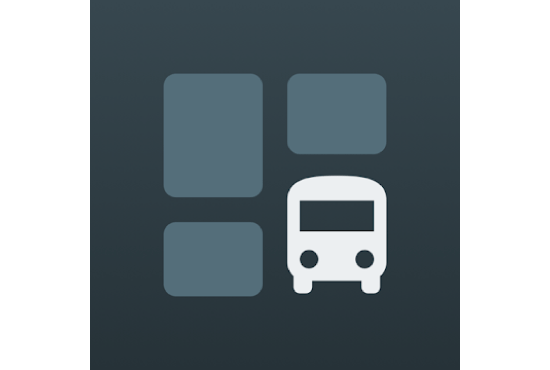 The UCSD shuttle system has a stop right at our conference venue, the Scripps Seaside Forum, using the Scripps Institution of Oceanography (SIO) Shuttle (info). This route connects the Forum, SIO, and Birch Aquarium to the Central Campus at the Gilman Transit Center with a walking connection to the UC San Diego Blue Line Trolley at the Central Campus Station.
Hours of Operation: Weekdays, 6:30 a.m. to 9:00 p.m.
Shuttle Tracking - live map
SIO Scripps Forum stop - schedule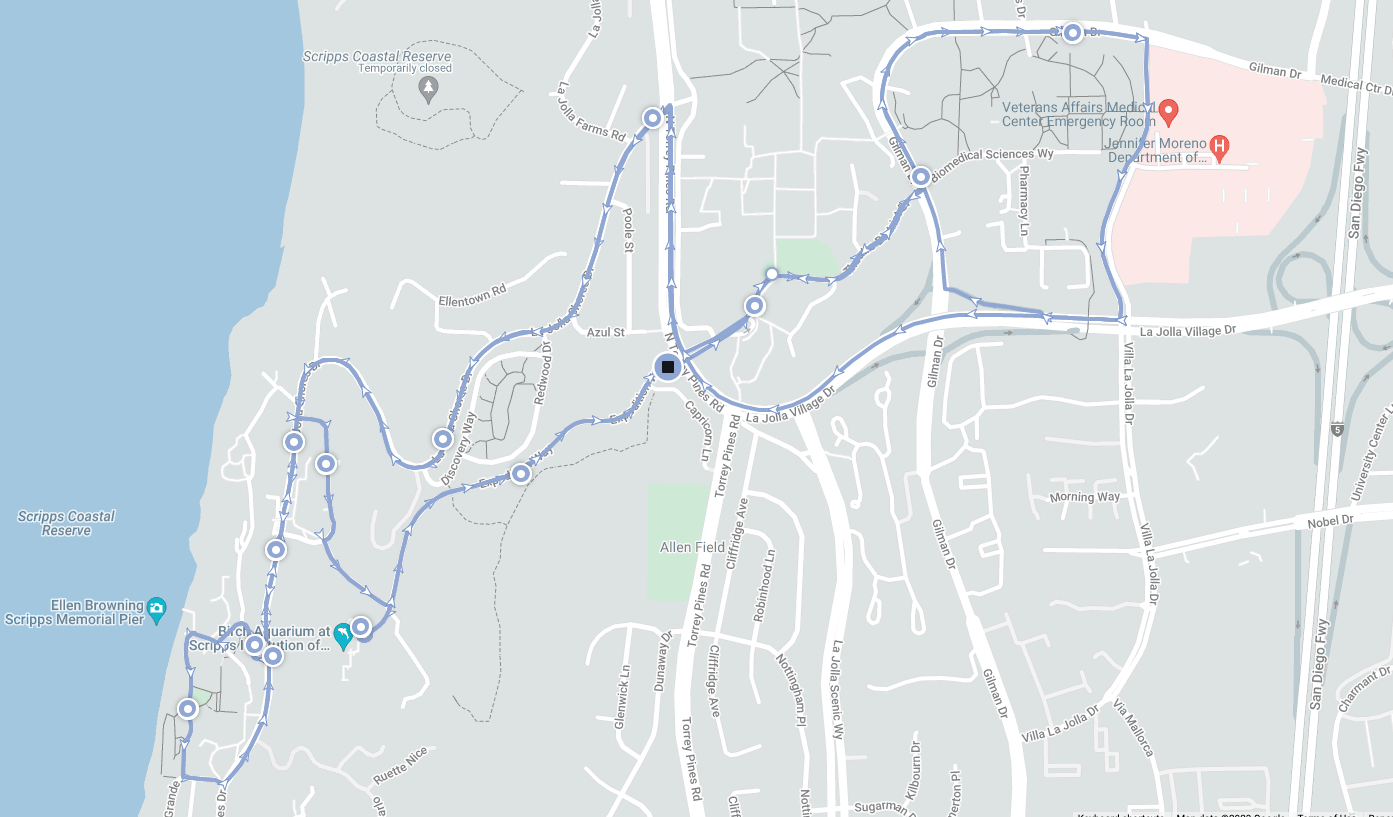 Ride Share
Lyft - Fare Estimator
Uber - Fare Estimator
Conference Arrival 
Park & Walk
If you were able to book your stay at one of our two conference rate hotels, you'll already be in the neighborhood! It's a brief and beautiful walk to the location for the Lean HE Conference:
Scripps Seaside Forum: 8610 Kennel Way, La Jolla, CA 92037
 There is no public or conference parking at the conference location.
 With the beauty of the coast, comes the high demand for parking. A few options: 
The La Jolla Shores Hotel offers free local van service for guests, tips encouraged

Free public parking at the La Jolla Shores Beach Park, open 4:00a-10:00p, a 10-min walk

Free neighborhood parking, expect a 10-min walk, read street parking signs

UC San Diego campus shuttle system offers the "SIO Shuttle" every 15 minutes
Ride share services are available in the area
Local Maps
Parking at La Jolla Shores Park - 10 Minute Walk
Open 4:00am-10:00pm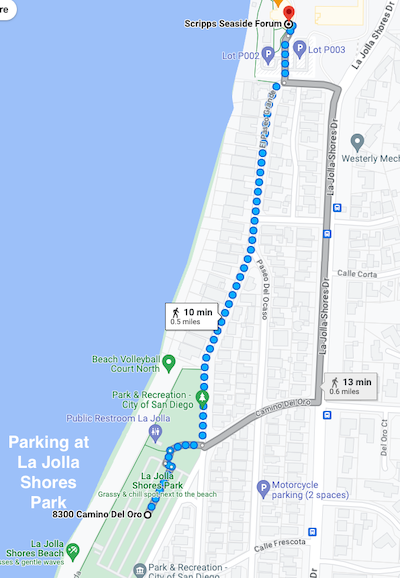 La Jolla Shores Hotel: van service or 14-minute walk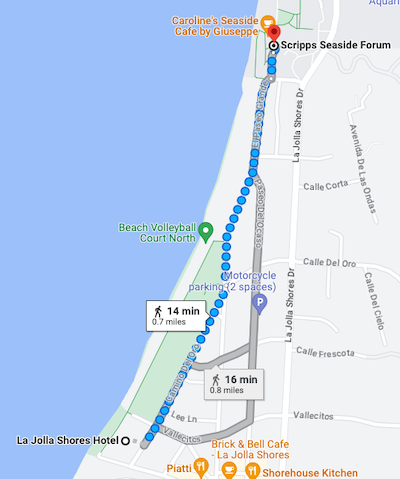 Hotel La Jolla Hilton Curio: 21-minute walk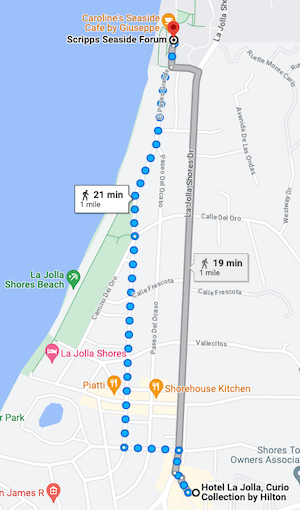 General Campus Parking Info